Great - that worked. Your book is ready for you in the shopping cart!
Secure your upgrade now:
THIS IS HOW YOU BENEFIT

FROM THE AUDIO AND WORKBOOK:
- In 45 days you will reach your new level
- Structured like a diary - With daily tasks for body, voice and mind
- With downloadable exercises for easier implementation
- With step-by-step instructions to your success
- With support in the Facebook group and by me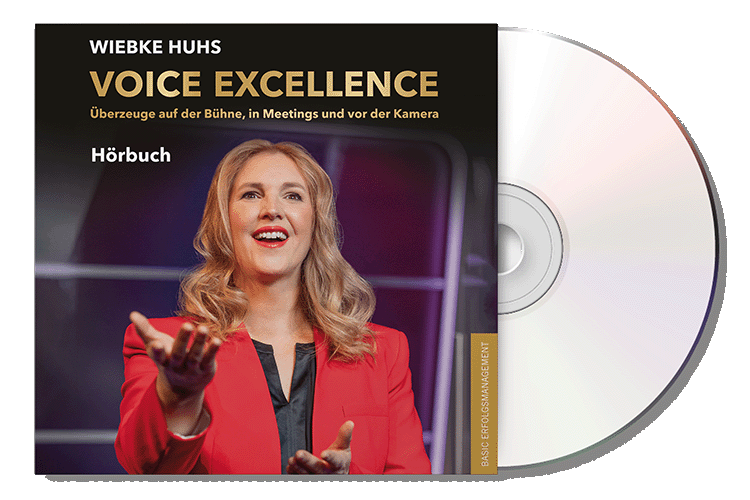 - Listening pleasure with the professional speakers Wiebke Huhs, Steffi Lingscheidt, Margit Susan Lieverz, Franz-Werner Seibel and Dominik Eisele
- Enjoy great voices with cool content
- Be inspired to be voice-present yourself
- Learn even if you don't have time to read
Or get the workbook and audio book separately:
FREQUENTLY ASKED QUESTIONS
QUESTIONS ABOUT THE WORKBOOK
ANSWERED
How long does delivery take?
If you secure your bundle now, your book and workbook will usually be at your home within 3-5 working days!
Important: This delivery time is normal. In individual cases, the delivery may take longer, but that is up to the supplier. We do not guarantee a fixed delivery time under any circumstances, but only reflect our own experience and that of our customers. Please make sure that your address is entered correctly, this also avoids long transit times and additional hassles.
You will soon receive a download link for the audio book. You can then download the chapters from here.
Can I opt for the bundle later?
No! You only get the discounted bundle price now. Of course, you can still purchase the audiobook and workbook individually afterwards.
How can I download the exercises?
For this you write me a short email to info@wiebke-huhs.de and I will activate you for the members' area. You can then download the exercises from there.