The practice book for the self-employed, entrepreneurs, coaches, speakers and stage artists with lots of exercises
DIRECTLY MORE OR
IN A BUNDLE
In addition to the "Voice Excellence" book, also get the workbook directly to get started with the implementation or everything in a bundle.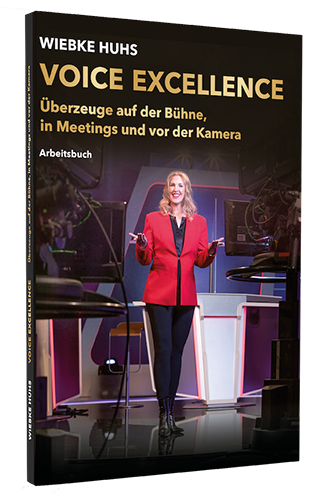 The workbook
With tasks for body, voice and mind you will reach a whole new level in just 45 days.
Get the workbook now for only €49.95 , start implementing it straight away and achieve your success.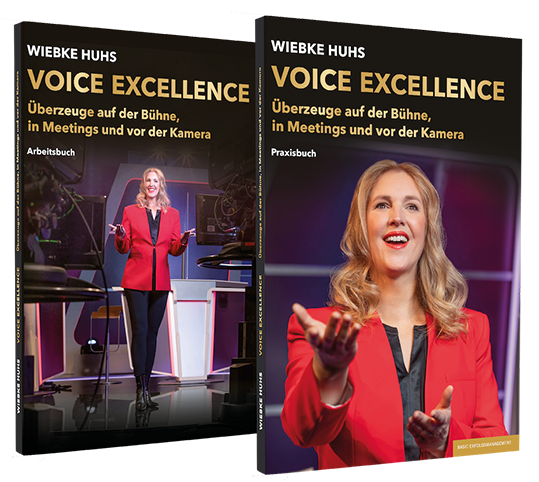 The "Maker" Bundle
The book & workbook combined in one bundle. You not only benefit from valuable know-how, you also get exercises that you can directly implement that will help you to reach a completely new level in just 45 days.
Get the "doer" bundle now for an unbeatable €60.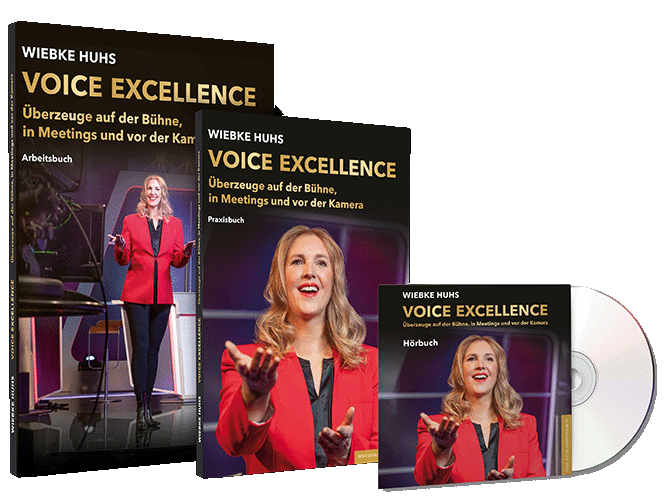 The "Superhero" Bundle
Do you want to get off to a good start? With the "Superhero" bundle you can learn where and when you want. The practice book and audio book give you the know-how and the workbook guides you with exercises on a daily basis.
Get your "superhero" bundle now for only €69.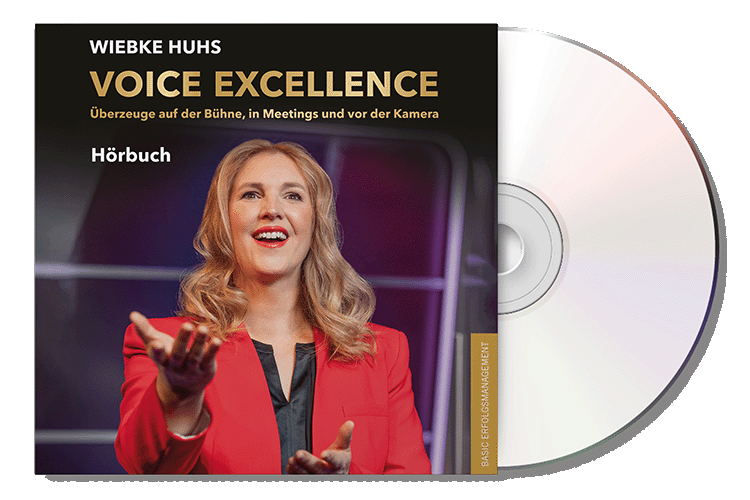 The audio book
The audio book for more attraction.
Read listening – whenever you want. Great content told by professional speakers. Enjoy good voices and let yourself be inspired to be vocally present yourself.
Order the audio book now for only €14.99.
What you can learn from this book:
How to develop a presence that inspires people
– The secret of the circles of concentration
– Using the voice optimally
– The power of the center of the body
How to best present yourself on stage, in meetings or in front of the camera
– The Archer: Successfully transporting content in a focused manner
– The clothes make the professional
– The secret of attraction and effect
How you feel comfortable and safe and get your full strength
– The difference between stage and camera
– Developing a stage personality - easily & with fun
– The right mindset behind the training
A LOOK INSIDE
THE BOOK
Get an exclusive insight into your new book: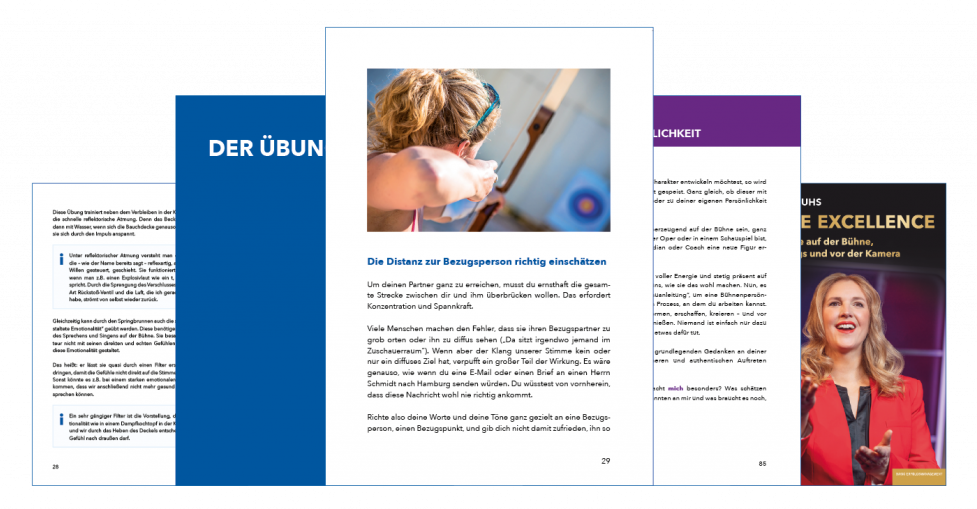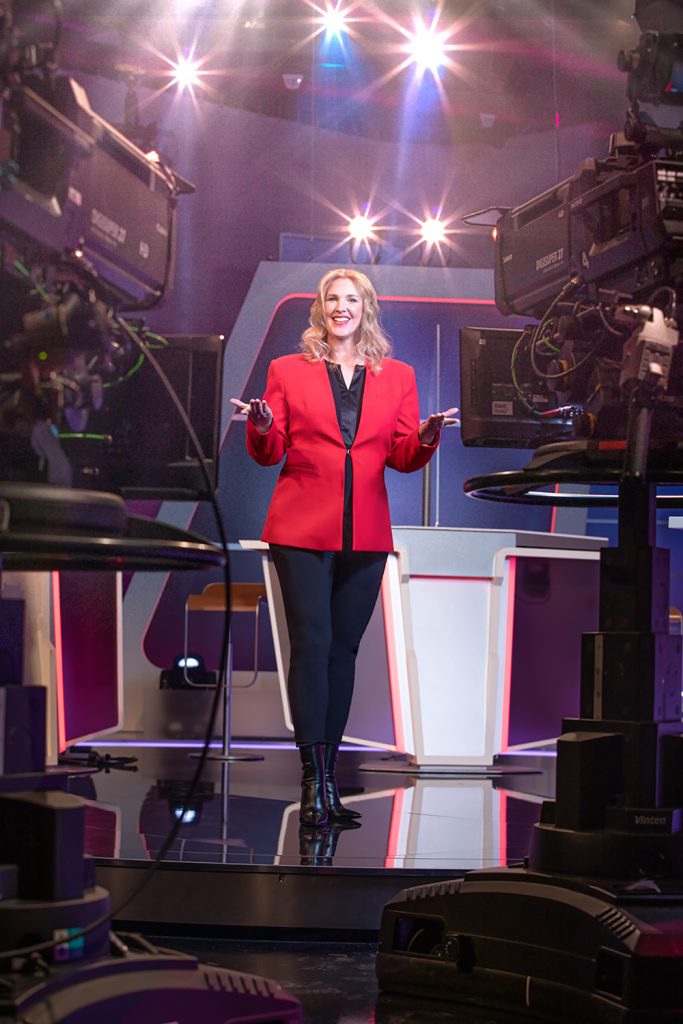 ABOUT THE AUTHOR
Wiebke Huhs is an absolute expert in her field. She has been using her voice and impact professionally for over 25 years - on public radio (SWR, NDR, DLF), on stage as an internationally active opera and concert singer , keynote speaker and coach . And so she knows: You can learn to be convincing. And it's easy when you know how.
She hears what's going on in her voice1 - because the human voice and everything connected with it is her profession.
As an opera singer, she travels a lot internationally, for example she has appeared at the Royal Theater in Cetinje, at the National Theater in Luxembourg, at the Vantaan Baroque Festival in Helsinki, at the Hamburg Michel with 3,500 spectators or at the Ulm Minster.
Therefore, she knows exactly how to perform at your best under pressure at any moment . And she knows how important the optimal interplay of all these elements (body, mind, voice, expression) is for great success .
With her company Voice Excellence and her specially developed Huhs' resonance method, Wiebke Huhs helps people to express their unique personality in voice and body and to inspire , lead and be successful with an incredible stage presence.
She lives with her child, cats and rabbits in Stutensee near Karlsruhe and, in her refreshing, humorous way , passes on all this knowledge in lectures, interviews, coaching and workshops.
REVIEWS
THIS IS WHAT READERS SAY

ABOUT THE BOOK
LORENZ WENGER
Business and mental coach
I never thought that the direction of my voice would so significantly determine my success in the room. This is genius!
EVA MING
Owner of Celebrationpoint AG
The powerful knowledge from this book opened up a new world for me.
Thank you for this highlight!
DR MEDICAL PETER A FRICKE
Expert in Shortcut Business Psychology
A master of her craft! What was most impressive for me was the realization of how awareness alone influences the inner mental field, sonority, carrying capacity and comprehensibility when speaking. I recommend this book to anyone who wants to be persuasive in front of their audience.
FREQUENTLY ASKED QUESTIONS
QUESTIONS ABOUT THE BOOK

ANSWERED
How long does delivery take?
The book is usually at your home in 3-5 working days. Important: This delivery time is normal. In individual cases, the delivery may take longer, but that is up to the supplier. We do not guarantee a fixed delivery time under any circumstances, but only reflect our own experience and that of our customers. Please make sure that your address is entered correctly, this also avoids long transit times and additional hassles.
Do I subscribe with the book?
No! There is no subscription or hidden cost behind this book.
What makes this book different from others?
This book is written from practice for practice. In this book you will learn real practical examples without much storytelling! This book is designed as an exercise and learning book and you should use it as such.